My skincare routine is one of my favorite parts of my morning routine. When I look good, I feel good and I like to feel my absolute BEST daily so I can serve my community from a confident place. Having radiant, glowing skin is part of your brand presence and how you face the world. I know we've all been there, having a blemish with a full to-do list. Instead of panicking, use this as a signal to devote more time to self-care. 
Skincare is part of self-care, so let's hold the toxic and harmful chemicals, please! There are many choices on the market as clean beauty is becoming increasingly popular. While some definitions for clean beauty may vary, I prefer brands that are 100% Vegan and non-toxic.  Products labeled as Vegan means they are free from any animal-derived ingredients or by-products. On the other hand, non-toxic products are formulated without ingredients known or suspected to be harmful to human health. 
Vegan and non-toxic labels often go hand in hand, as many people who opt for vegan products also seek to avoid harmful ingredients and prioritize their overall well-being, but not always. Below I'm sharing my favorite Vegan and non-toxic go-to's, as well as brands you may want to consider adding to your clean beauty skincare routines.
My Top 6 Favorite Clean Beauty Brands
Pacifica:

Pacifica offers a wide range of Vegan and cruelty-free products that include: skincare, makeup, sun-care, and fragrance. Their products are free from harmful chemicals and focus on natural ingredients. Pacifica Beauty is known for its innovative product offerings. They regularly introduce unique formulations and trends, allowing customers to explore new and exciting clean beauty options. Have you seen their Little Mermaid collection? So cute!
Pacifica's Kale Deep Cleaning Face Wash is great for detoxifying the skin and removing makeup, Use code KOYA15 for 15% off
2. OSEA: OSEA is a Vegan and cruelty-free skincare brand that uses organic seaweed extracts and other plant-based ingredients. They are known for their clean and effective formulations derived directly from the earth's elements. This sustainable brand was established in California and is woman-owned.
OSEA Ocean Cleanser- One of the best seller's on the site, Use code KOYA10 for 10% off  [Limit one per customer]
3. 100% Pure: 100% Pure specializes in natural, fruit-based skincare and makeup products. They're dedicated to creating products free from artificial colors, synthetic fragrances, and other harmful chemicals. 100% Pure uses ingredients you'd have in your fridge and pantry-mushrooms, cherries, and coffee to create their product categories and have raving reviews.
100% Pure Fruit Pigmented® Ultra Lengthening Mascara is derived from berries, cocoa and black tea.
4. Tru Alchemy: Tru Alchemy is a holistic skincare brand that is clean and conscious. This brand sources natural ingredients and is Leaping Bunny Certified, meaning they are cruelty-free. I am currently trying out this brand and I am in love!
One of my favorite go-to's: Tru Alchemy Retinol Reset
5. Primally Pure: Primally Pure is a clean beauty brand known for its natural and effective skincare products. They emphasize using natural and organic ingredients in their formulations which are made in small batches. Primally Pure values transparency and provides detailed information about their ingredients and sourcing practices. They strive to create an open and honest relationship with their customers.
Primally Pure Plumping Serum- Stimulates collagen for a youthful glow. Check out their amazing skincare collection
6. Pureauty Naturals: Pureauty Naturals is a brand that wants you to feel confident in your own skin through quality natural ingredients and with consistency. Beyond skincare, this brand offers natural biotin hair care products. I've been using their Biotin Hair Serum and loving the results so far! 
A daily must for luscious hair: Pureauty Biotin Hair Serum
Clean Beauty Brands To Consider Trying
Tata Harper:  

Tata Harper is a luxury skincare brand that creates products using natural and organic ingredients grown on their Vermont farm. They are committed to using high-quality botanicals and avoid synthetic chemicals in their formulations. This brand focuses on a farm-to-face concept.
Tata Harper's Cleansing Kabuki Brush has a sustainable wood handle and is designed for their Softening Cleanser or Clarifying Cleansers
2. Drunk Elephant:  Drunk Elephant is a popular clean skincare brand focusing on effective and non-toxic ingredients. They offer a variety of products, including cleansers, serums, and moisturizers, and avoid the "suspicious six" ingredients.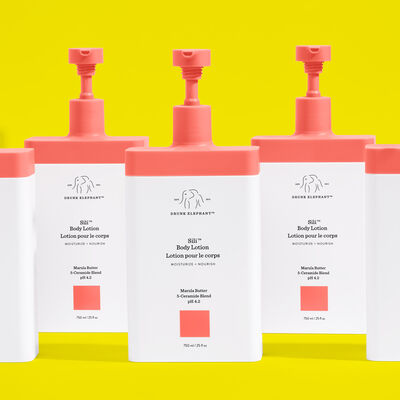 Drunk Elephant Sili Body Lotion balances and nourishes skin that is dry and irritated
3. Herbivore Botanicals: Herbivore Botanicals is known for its minimalist approach to skincare. They include plant-based ingredients and essential oils to create their products. The products are free from synthetic ingredients, parabens, and sulfates. Their approach to skincare is simple yet effective.
Herbivore Botanicals Bamboo Charcoal Bar Soap is hand-crafted and made to purify and balance your skin and pore appearance
4. Axiology: Axiology's products are free from harmful chemicals, palm oil, and animal testing. Axiology specializes in vegan lipsticks, "Balmies", crafted with organic and natural ingredients and has the world's first zero waste crayon designed for your lips, cheeks, and eyes.
Axiology's Vegan Balmie Sets are made with only ten natural ingredients and its recyclable box is also a carrying case. [Golden Hour is featured]
5. Juice Beauty: Juice Beauty is a skincare and makeup brand known for its organic and vegan formulations. They use antioxidant-rich botanical juices, plant oils, and natural extracts for the curations of their products. Juice Beauty's collections include makeup, skincare, and hair care.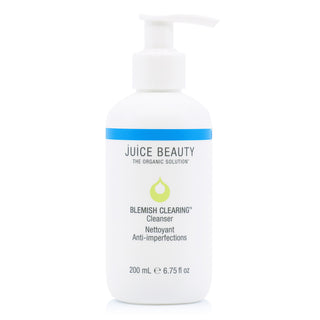 Juice Beauty's Blemish Cleanser is award winning and hydrates the skin while cleansing it at the same time
6. Alima Pure: Alima Pure creates high-quality cosmetics using minimal ingredients and avoiding synthetic fillers. They are a mineral makeup brand that offers 45 shades and is the first color cosmetic company to be B Corporation Certified. With their wide range of shade offerings, this company is inclusive and able to serve a broad range of clients.
Alima Pure Cream Highlighter is made in Italy, offered in two shades, and adds a glow to your skin.
7. Fitglow Beauty: Fitglow Beauty is a clean beauty brand that offers vegan and cruelty-free skincare and makeup products designed to enhance your skin's health. Fitglow Beauty meshes skincare and makeup by infusing their products with skincare benefits. This approach ensures that their makeup not only enhances appearance but also improves the condition of the skin. This brand is woman-owned and operated. 
Fitglow Beauty's Night Ceramide Lip Serum softens, hydrates, and combats the signs of aging for your lips
8. Elate Beauty: Elate Cosmetics is a sustainable and Vegan beauty brand committed to clean and ethical practices. This brand consciously strives to source its ingredients that are in alignment with their practices. 
Elate Beauty's Prep Priming Serum is made with aloe for hydration and gives skin a silky finish before your make-up application.
9. PYT Beauty: PYT Beauty's products are made without harsh chemicals, artificial fragrances, or animal-derived ingredients. They strive to simplify beauty routines and their products are hypoallergenic. PYT Beauty has a focus on being inclusive and versatile. 
PYT Beauty's The Upcycle Eyeshadow Palette in Rowdy Rose Nude is hypoallergenic and not an irritant for the eyes. The palette is perfect to take you from day to night.
Ere Perez:

Ere Perez is an Australian brand that offers vegan and natural makeup and skincare products. They prioritize using botanical ingredients and avoiding synthetic chemicals and animal-derived ingredients. Ere Perez offers a foundation that contains oat milk and creates products that are good for your skin and the earth.
Ere Perez – Natural Avocado Waterproof Mascara | Vegan, Cruelty-Free, Clean Beauty
These brands have gained popularity for their commitment to clean and non-toxic formulations, using natural and organic ingredients, and avoiding harmful chemicals. However, it's always a good idea to check the specific products you're interested in and the ingredients for each product to ensure they align with your personal preferences, specifications, and needs. 
In today's world we are constantly on the go. We always have somewhere to be or something on our never ending to do list to check off. A part of nurturing your well-being is being able to take time for yourself as you see fit. That could be anything from journaling, reading a book, doing your favorite exercise, taking a bath, or exploring products to perfect your skincare rituals. Before I begin my day and when I end my day, I like to immerse myself in my selfcare routine. Skincare is a way I show love and gratitude for my skin, my hair, and my body. I apply all products with love and care. I thank myself for devoting the time to care for myself. 
I encourage you to not feel guilty for taking time to treat yourself, as you deserve to! With developing a routine for your skin, hair, and body, you begin to understand what products work best for you, what feels good, and what you enjoy doing for yourself or even with your loved ones! It can be a group activity!  Should you try any gems from the brands mentioned, be sure to connect with me and share your journey and what you like best. 
I do earn a small commission on some affiliate products linked, which helps support this blog, research, and writing on the best products out there. Thanks for supporting my mission to make healthy living a lifestyle. 
Shop My Amazon Store:
https://www.amazon.com/shop/koyawebb
Check out our upcoming events:
Take your next step with yoga with our Yoga Teacher Training:
 https://koya-webb.mykajabi.com/get-loved-up-online-yoga-teacher-training-sign-up
Join the Community and become a member of Get Loved Up: